Carmelite Spirituality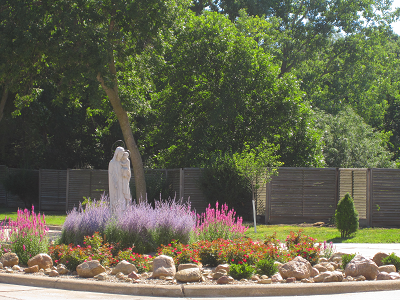 Carmelite Rule
Every Carmelite monastery harkens back to the picturesque Mount Carmel in the Holy Land, just an hour's drive west of Nazareth and overlooking the Mediterranean Sea. The origins of the Carmelite Order come from that very place, Mount Carmel, where crusaders and others settled into a common hermit life. Around the year 1209, they requested and received a Rule to live by. That Rule calls us to practice unceasing prayer in solitude, silence, and a spirit of evangelical vigilance.
Discalced Carmelite Constitutions
"The vocation of the Discalced Carmelite Nuns is a gift of the Spirit. Through it, they are called to a 'hidden union with God' in friendship with Christ" (#10).

"The Discalced Carmelite Nuns are united with Christ who intercedes for us and offers Himself for us. With Him, they offer themselves to God, and complete what is lacking in the passion of the Lord in favor of His Mystical Body (cf. Col. 1, 24). In this way, they open themselves to the action of the Holy Spirit who guides the Church and gives it life; and they move toward achieving that pure and solitary love which is more precious in God's sight and of greater profit for the Church than a great many other works taken together" (#126).

The Saints

Saint Teresa of Jesus

"However softly we speak, He is near enough to hear us. Neither is there any need for wings to go and find Him. All one need do is to go into solitude and look at Him within oneself."
Saint John of the Cross
She lived in solitude, 

and now in solitude has built her nest; 

and in solitude he guides her, 

he alone, who also bears  

in solitude the wound of love.

(Spiritual Canticle, Stanza 35)

"O Lord, my God, who will seek You with simple and pure love and not find that You are all one can desire."
Saint Thérèse of the Child Jesus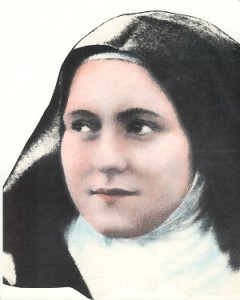 "How much Jesus desires to be loved!"

"In the heart of the Church, my mother, I will be love!"
Saint Elizabeth of the Trinity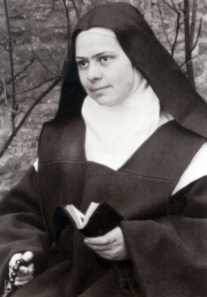 "Live with Him. How I wish I could make known to every soul what a source of strength, of peace and of happiness as well, they would discover, did they only consent to live in this intimacy."
 "Realize that your soul is 'the temple of God,' as St. Paul teaches. The Three Divine Persons dwell within it during every instant of the day and night. You do not possess the Sacred Humanity except when you receive Holy Communion, but the Divinity, the Essence which the blessed adore in heaven, resides within your soul. When once we realize this, a most delightful intimacy is established, and we are never again alone."
St Mary of Jesus Crucified
Flower of the Holy Land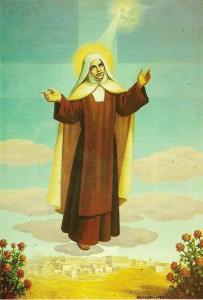 St Mary of Jesus Crucified (Maria Baouardy) is a marvelous flower of the Holy Land. She was born on 5 January 1846 at Abellin, between Nazareth and S. Giovanni d'Acri (Akko), of a Catholic Greek-Melkite family. She died in the Carmel of Bethlehem on 26 August 1878.
Orphaned at a tender age, she was forced to work as a domestic in Alexandria in Egypt, Jerusalem, Beirut and finally in Marseilles. Attracted to the cloister, she entered the Carmel of Pau in France (1867) where her manner of living, her simplicity and childlike candor as well as her speech which preserved all the flavor of the land of Palestine, won for her the name of "Little One." She herself liked to be called "the little nothing," and in the monastery and outside it, she was known as "the little Arab."
In 1870, with a group of Carmelites, she set out for Mangalore to found the first Indian Carmel. There she made her religious profession (the first Discalced Carmelite professed in India) on 21 November 1871. Grave difficulties forced her to return to Pau toward the end of 1872. Then in 1875 she left for her native land with a group of nuns to found a Carmel of Bethlehem, the city of David and of Jesus. For this foundation, she courageously selected the site, becoming at the same time architect and supervisor of the work. The three years of her life in the Carmel of Bethlehem were one long and sorrowful Calvary: sickness, heroic labor, the direction of the construction, mystical nights, voluntary acts of reparation. One long martyrdom of love. Up to the end, she remained "the little nothing."
During a period when the Holy Spirit was "the great unknown," she became a promoter of devotion to the Spirit. In turn, the Holy Spirit filled her with His gifts, so much so that she became a living synthesis of mystical phenomena: the stigmata, discernment of hearts, prophecy, levitation, bi-location, the piercing of her heart…
She died on 26 August 1878. Her body rests in the Carmel of Bethlehem. This humble daughter of Galilee, fellow citizen of Jesus and Mary, was declared Blessed on 13 November 1883. On May 17, 2015, Pope Francis declared Mary of Jesus Crucified to be a Saint.
~  L'Osservatore Romano
Saints Louis & Zélie Martin
Parents of Saint Thérèse of the Child Jesus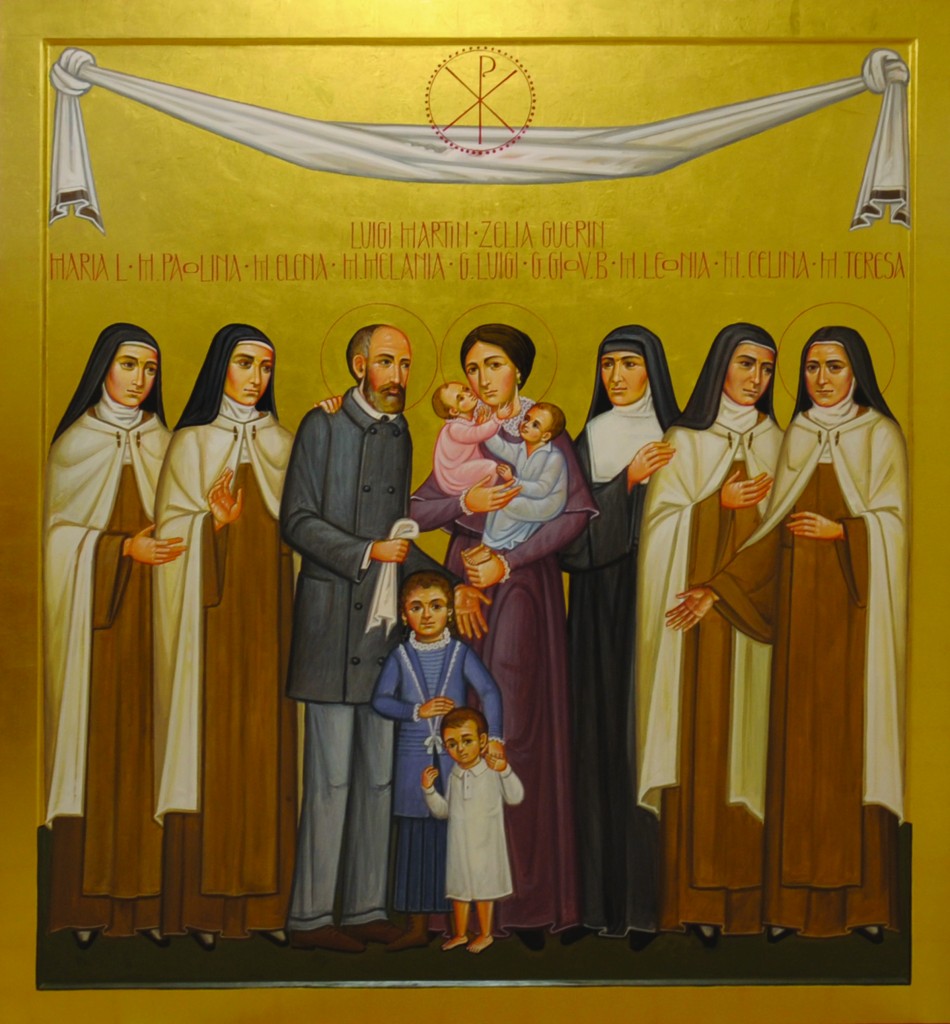 This icon of the Martin Family, Icona della famiglia Martin, was written by Paola Orlando of the Diocese of Milan and is reproduced here with permission.
Canonized October 18, 2015, Saints Louis & Zélie Martin are pictured here with their nine children. Four of the children died very young while the other five lived to become religious: four Discalced Carmelite nuns, including our St Thérèse, and one Visitandine sister, Léonie. We're hoping Léonie, who embodied St Thérèse's Little Way, will be the next Martin Saint!
Suggested Reading
St. Teresa of Jesus:
Way of Perfection
Book of Her Life

St. John of the Cross:
Spiritual Canticle
St. Thérèse of the Child Jesus:
Story of a Soul